Fax Barcode
Universal Document Tag™
With i-fax.com's Universal Document Tag™ Barcode, your users can fax documents that are automatically scanned and linked to data on your enterprise database or website.
Eliminate over 80% of your labor costs by receiving faxed documents automatically.
i-fax.com's Barcode is designed to work with all kinds of fax machines. i-fax.com's Barcode has a recognition rate that is 10 times greater than conventional barcode technology. Demo Now.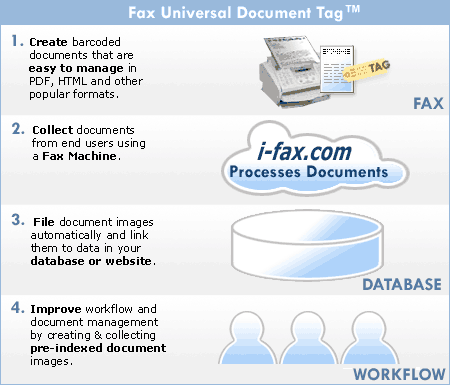 | | |
| --- | --- |
| Note: | Choose from Toll Free fax numbers in the USA and Canada and fax numbers in over 1,100 cities around the world. |
Features
Barcode Formats
PDF, HTML, GIF, SVG, BMP, Microsoft Word

Barcode Available in Many Languages
Java, JSP, Perl, PHP, C# (Dot NET), ASP, ASPX, ColdFusion, Visual Basic, MS Word

Barcode Features
Fax Compatible, Image Rectification, HTML and PDF, All-In-One Printers, Barcoded Cover Pages
i-fax.com brings the cost benefits of web based technology to the handling of paper documents. See for yourself. Calculate your ROI.